Arbors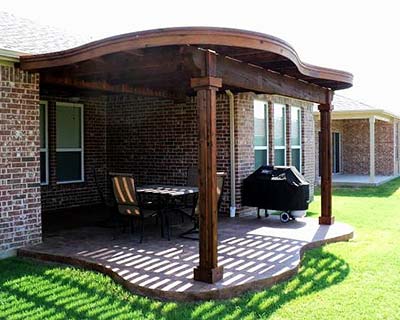 If you are looking to add elegance to your property, consider installing an arbor in your landscape. These features can be custom designed to suit your requirement. We at AMA Landscape and Design can cater to all your requirements. If you need an arbor designed and built, our experts can provide the best solutions.
We have created beautiful arbors for clients in Prosper, Frisco, and McKinney. Our team has installed arbors on properties in Denton, Plano and The Colony. Many clients in Dallas and Sanger approach us for all their landscape feature needs. If you live in Grapevine, Allen or the surrounding areas, and need a custom designed arbor for your yard, feel free to call us.
These features can be built in a variety of styles and fit in perfectly with all types of landscaping concepts. Whether you want a modern style arbor or one that has a more classic style, our team can design and install it for you.
What Is An Arbor?
This feature is composed of two parallel trellises that hold up an open lattice. These structures lend themselves beautifully to vines and other climbing plants. They can also be used to create a semi-shaded seating area and can be built above various hardscaping and landscaping features like ponds and garden benches.
When it comes to providing custom arbor design and installation solutions to commercial and residential clients; no one does it better than us! Our team will discuss your requirements and understand your ideas before providing design options. We can build arbors that can sync well with your existing landscape.
Custom Designed Garden Arbors
A well-designed and well-placed arbor not only adds to the aesthetics of the space but to its functionality and value as well. We use weather-resistant materials in building our arbors and that means you will have resilient and durable features that last for a very long time, with very minimal maintenance. Every feature will be crafted with care and installed with attention to detail, ensuring the longevity of the arbor.

We are extremely passionate about what we do. Whether you need just an arbor designed and installed or require full-scale landscaping services, you are assured of the best solutions. For any more information please call the AMA Landscape and Design experts at 214-592-5504 to discuss your project details. You can also send us all your queries about arbor cost via this Online Form and we will revert shortly.

Click on the images below to view a larger display.


Open Slatted Arbor

A-Frame

A-Frame and Arbor

Arbor Round

Arbor S-Shaped

Arbor S-Shaped #1

Arbor Solid Roof

Arbor with Lattice

Freestanding Arbor