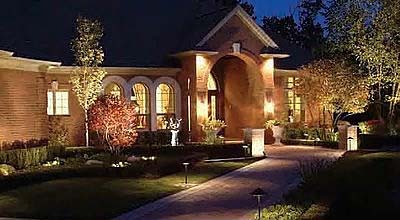 Imagine your outdoor spaces illuminated with soft lighting that highlights the natural beauty of your plants and trees, the hardscape features and the shimmer a waterfall, fountain or pool. Regardless of how beautifully and well-designed your landscape is, the right type of lighting can elevate it to the next level.
We at AMA Landscape and Design can cater to all your landscaping requirements. If you need exterior lighting for your property, our experts can provide the best solutions. We have planned beautiful lighting installations for clients in Prosper, Frisco, and McKinney. Our team has handled projects on properties in Denton, Plano and The Colony.
Benefits of Yard and Garden Lighting
Many clients in Dallas and Sanger approach us for all their yard lighting needs. If you live in Grapevine, Allen or the surrounding areas, and you need exterior lighting, feel free to call us. When it comes to landscape lighting, there are a number of benefits to it such as:
Safety and Security - A well-illuminated yard or commercial landscape act as a deterrent to unsavory elements such as burglars, vandals, and thieves. Our designers and landscape lighting planners make sure that the right types of lighting fixtures are installed at strategic locations such as entranceways, boundary walls, patios and decks, swimming pool areas etc.


Mood Lighting - One of the best ways to improve the appeal of the outdoor living features on your property is to get mood lighting installed. We use various lighting effects such as down-lighting, up-lighting, recessed lighting and more to create just the right ambiance in the landscape. This type of lighting helps create welcoming and attractive outdoor areas on your property.


Improved Energy-Efficiency - While it's important to have well illuminated outdoor spaces, it's also important to focus on aspects such as energy-efficiency. That is why we recommend the use of LED bulbs and fixtures. These are 80% more energy-efficient than standard bulbs so you won't be saddled with high energy bills.
Residential and Commercial Landscape Lighting
We recognize that every landscape is different and that commercial landscapes are unique in terms of the features, layout, and size. This is why we always adopt a customized approach in our work, ensuring the plan, and features suit the settings they are installed in.

We are extremely passionate about what we do. Whether you need just some boundary wall lamps installed or want exterior lighting for your entire property, you are assured of the best solutions. For any more information please call the AMA Landscape and Design experts at 214-592-5504 to discuss your project details. You can also send us all your queries about landscape lighting cost via this Online Form and we will revert shortly.

Click on the images below to view a larger display.


Photo 1

Photo 2

Photo 3

Photo 4

Photo 5

Photo 6

Photo 7

Photo 8

Photo 9